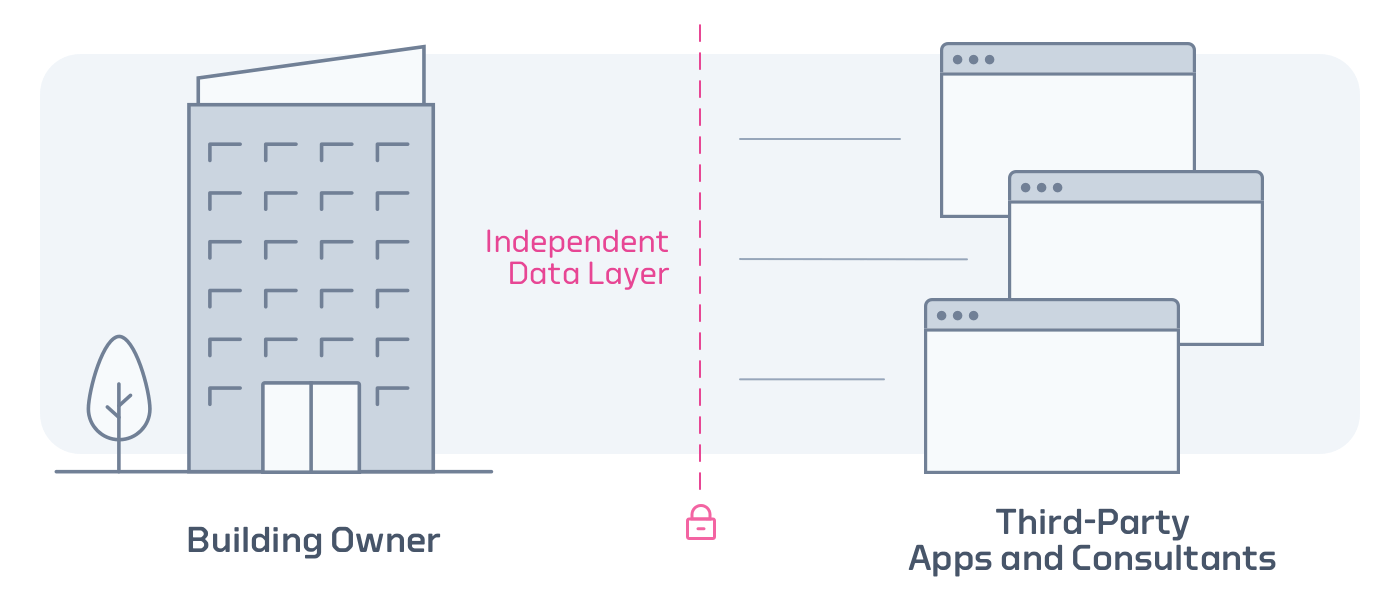 Building off our previous post, What is an Independent Data Layer, let's look at how an IDL benefits building owners.
As an owner or property manager, you are constantly assessing how to modernize and run your buildings more efficiently. This may come from internal process improvements, purchasing technology, or outsourcing to third parties.
And as we discovered, data drives many of these solutions.
In many cases, the same data.
It's a good bet your in-house software and your outside consultant are pulling the same data. But both did the duplicated work of setting up acquisition, storage, management, and (hopefully) security.
And you paid for it. How often have you paid someone to set up data acquisition for your building? Do you even know who currently has access to your building systems? How many different platforms can be hitting downstream controls and sensors simultaneously before causing operational problems?
A better way to think about data is to consider it part of your building: mechanical, sensors, controls, and data. Don't stop at controls. Taking things up to an IDL saves tremendous headaches down the road. Your building is more open and vastly easier to integrate.
It also tilts leverage back to you. Now you control the data and who has access. Limit what vendors can see in your buildings. Grant them read-only or write access. Limit what they can bill since the data is already available.
Having a single data access and storage layer makes onboarding new applications trivial. It even allows you to evaluate competing products at the same time. Or to transition to other vendors easily. This portability is another key benefit to IDLs.
Managed software and storage means nothing to maintain. Set the system up once, then move on to what you should be doing. Always backed up. Always updated. Always secure.
Centralized data infrastructure lightens the load on internal systems. Live values and trends get requested once and then cached at the IDL. Slow networks such as legacy serial trunks or 802.15.4 networks are no longer overwhelmed by multiple duplicate requests.
The IDL abstraction layer also moves us above control protocols like BACnet and Modbus. These protocols are seldom used outside building systems and were not designed for modern cloud-based architectures. The IDL dramatically simplifies how external systems connect to your building by adopting well-known standards such as REST and JSON.
As building technology evolves, data will play a pivotal role in enabling these new advancements. The IDL simplifies integration today and future-proofs your facilities for what comes next.